What does KUMIAY mean?
Name
The name KUMIAY means the union between the Americas and Japan, between the traditional and the modern, crossing the borders between the Hispanic peoples for the benefit of society.

In Japanese language "kumiai" means "union" or "association", it is the common name of many unions or associations in Japan, using the ideograms ("kanji") "組合". The ideograms chosen for our company name have been "九三合", where the meaning of each of the three ideograms is the following:

九: "KU" means "nine". It symbolizes "Kyushu" (九州), the southernmost of the four main islands of Japan and where the company has been founded. It also represents Kyushu University (九州大学), place where the first contract was signed and alma mater of one of the founders of KUMIAY Internacional.



Localization of the island of Kyushu (九州) in Japan
三
: "MI" means "three", representing the countries of the founders: Costa Rica, Mexico and Japan. It also represents the tricolor of the Mexican flag and the three volcanoes of the Costa Rican coat of arms, which in turn represents the three mountain ranges in the same country. A third meaning is that of the three caravels and nao founders of the Hispanic culture in the Americas with Christopher Columbus


Coat of arms of Costa Rica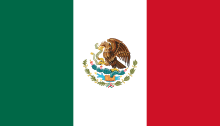 Flag of Mexico
合
: "AI" means union, combination or adaptation. It represents the union between the Americas and Japan, between the traditional and the modern, between the Hispanic peoples of the Americas, crossing beyond borders and continents.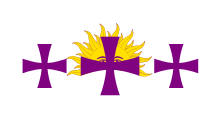 Flag of Hispanic people
On the other hand, in the region of California in Mexico and the USA there is a native American ethnic group called "Kumeeyaay" [1] in English and "Kumiai" in Spanish, with the same spelling as the Japanese word, so that our name stems from the combination of the words in the three languages, so that it is readable in Spanish, English and Japanese, without being directly associated with the Japanese word "kumiai" (組合).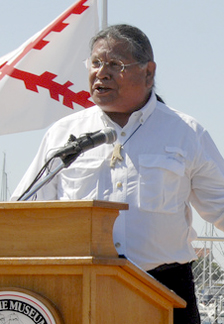 Anthony Pico, leader of the Kumeeyaay people

Logotype


The elements incorporated into the KUMIAY Internacional logotype are the following:
Union between Japan and the Americas, in particular Hispanic America.
Union between the Hispanic peoples without borders, in particular Mexico and Costa Rica and the Kumeeyaay in Mexico and the USA.
Japanese flag [2].
The KUMIAY Internacional logotype incorporates the ideogram "九" which is the first of the three used for our company name "KUMIAY" in Japanese, in the way of a Japanese calligraphic stroke ("shodo") in a stylized modern manner, enclosed in a circle that represents union, forming a volcano in the lower part, geographical elements very present and important in the culture of Japan, Costa Rica and Mexico, with a red circle to its right, representing the Sun of the Japanese flag, possibly representing as well a smoke burst from the volcano and at the same time completing the missing stroke on the ideogram "九" needed to trace a shape similar to the character "K", our initial in Latin letters.
References:
[1] https://en.wikipedia.org/wiki/Kumeyaay_people
[2] https://es.wikipedia.org/wiki/Bandera_de_Jap%C3%B3n
Last modified: Monday, 13 May 2019, 3:45 AM